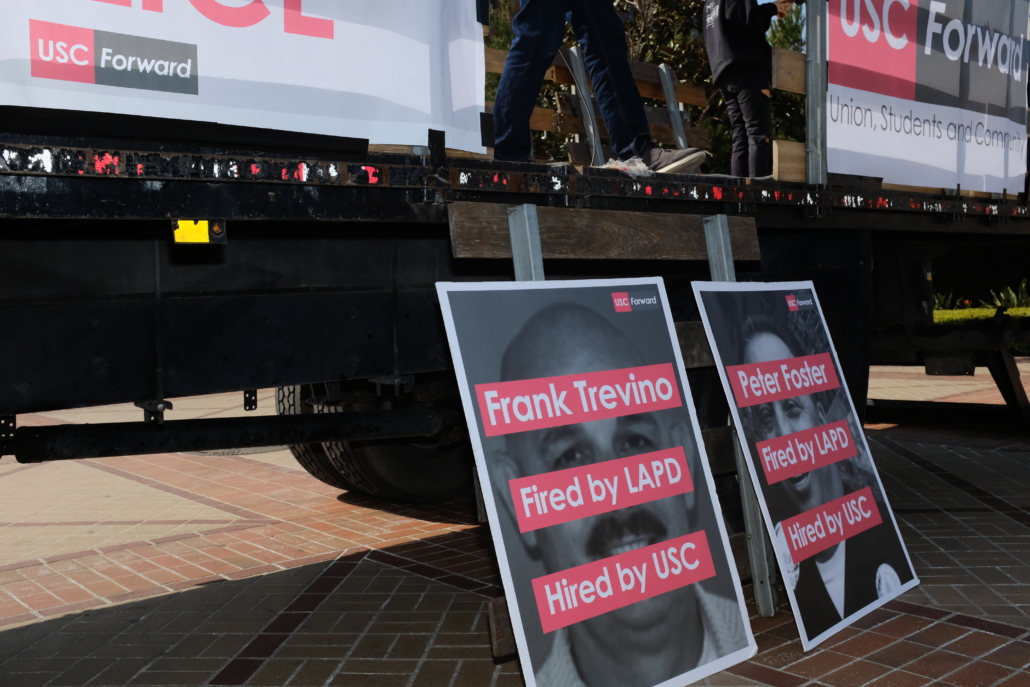 Los Angeles, CA — The USC Forward Coalition released the following statement in response to the release of the University of Southern California's "One USC: A Vision of Community Safety for All" report:
"We are surprised to know that the University of Southern California finally recognizes that USC policing is a huge problem, marred by rampant racial profiling inside campus, and around the communities where our coalition members reside.
"For years, community members have sounded the alarm on the rampant harassment and racially motivated interactions by the USC Police with Black and Brown residents in South Los Angeles, and the university's facilities on the Eastside. In fact, the University's report itself establishes that 8 out of 10 police stops conducted by their armed officers are against residents, students, and staff of color. The numbers are more egregious than we could ever imagine."
Most recently, we exposed the University's Police Department's pattern of hiring former LAPD officers with a history of excessive force and racial discrimination allegations, credibility and dishonesty issues, and officer-involved shootings in a groundbreaking report.
"The reality is the USC Police is rotten from the bottom up and must be abolished. The recommendations made by USC Department of Public Safety Community Advisory Board are mere smoke and mirrors, a continuation of the status quo, and allow for perpetual terror against Black and Brown residents, students and staff."
"We will continue to work with residents, students, and our labor partners to demand that the University abolish the USC Police, and reallocate millions in policing funds to create 2,000 scholarships annually for LAUSD students from South LA and the Eastside."
https://uscforward.org/wp-content/uploads/2021/03/DSCF1829-scaled.jpeg
1707
2560
USC Forward Comm
https://uscforward.org/wp-content/uploads/2021/03/USC_Forward_Rectangle_Logo_Outlined-300x94.png
USC Forward Comm
2021-07-29 21:25:23
2021-07-29 21:51:09
UNIVERSITY OF SOUTHERN CALIFORNIA'S ANTI-RACIAL DISCRIMINATION RECOMMENDATIONS FALL FAR SHORT; COMMUNITY DEMANDS ABOLISHMENT OF USC POLICE FORCE