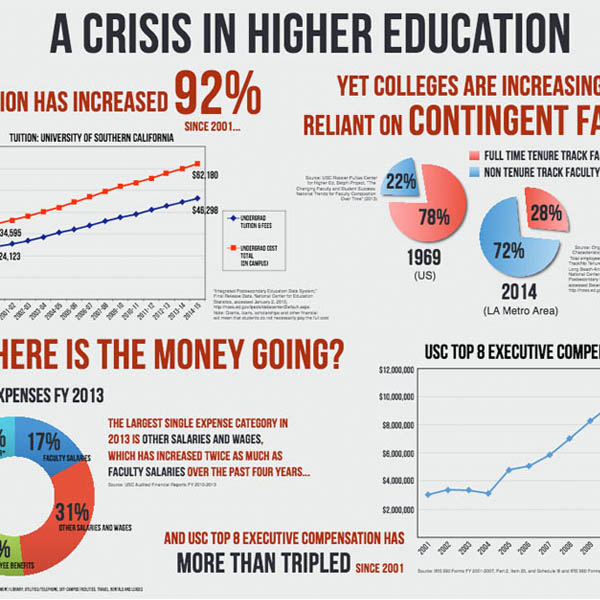 Fall semester is in full swing, and our campus is buzzing with activity. The first weeks of back on campus are always an exciting time for students and faculty, and this year is no exception.

This year, however, we're paying special attention to university priorities, and working hard to ensure university resources are going to the places they're needed most.

As you may have noticed, students are paying more than ever before to attend classes at USC. Since 2001 tuition has increased 92%, and this year will be our most expensive yet.



As tuition continues to climb, we all pay the price: students, parents, faculty, and the community.

 Many Trojans rely on student loans to cover the cost of tuition, and as a result, these students and their families are taking on greater amounts of student debt than any generation before them.

At USC, the average borrower is now looking at $28,474 in undergraduate student debt upon graduation.1

 Among all universities in the country, USC is ranked 5th in graduate student loan debt. That's $460 million of debt to USC graduate students in 2013-2014.2

So where's all that money going?

It's not going to our talented Trojan faculty, who are working harder than ever to deliver a world-class education to students. Despite their dedication, the majority of our professors work in contingent, part-time positions offering low pay, limited benefits, and no job security. In fact, 69% of USC faculty work in contingent positions, hired on temporary, semester-to-semester contracts.3




Being a professor – once a stable, middle-class career – has become a low-wage, precarious job with an uncertain future.

We have seen a dramatic shift away from investment in university educators and affordable, accessible higher education for students. Instead of investing in student learning, our university has continued to dump money into lavish infrastructure projects and bloated administrative salaries.

As evidenced in an analysis of USC's expenses, "Other Salaries and Wages" remains the single largest expense category, and has increased twice as much as faculty salaries over the last 4 years.




And USC top 8 executive compensation has more than tripled since 2001.




Faculty are working harder without job security, for lower pay, and with less institutional support than ever before. Students and parents are paying more than ever, and taking on debt that could hold them back for years to come.

With assets totaling over $10 billion, our university has the resources and capacity to make drastic improvements for students and faculty. Instead, USC continues to drive the widening gap of income inequality in Los Angeles through skyrocketing tuition and unstable, temporary employment for faculty.

This corporate model of education runs contrary to our educational mission.

It's time for a change. Together we can hold USC accountable.

 Our university needs to invest the proper amount in instruction, giving our professors the support they need to deliver quality education to students.

No longer can USC prioritize profits over the stability of student education. Students and families should not be faced with a lifetime of crippling student debt. Faculty should not be living check-to-check while our university rakes in millions.

Tuition funds should support student learning, not line clash royale free gems the pockets of wealthy administrators and corporate board members.

We are united to fight for a better USC, and this year we're taking action.

Stay tuned as we fight for quality, affordable education for students and good jobs for faculty.

Get involved:
Sign up for regular updates and campus action alerts here.
Have you been affected by our university's business model of education? Share your story here.
Share this image on Facebook and Twitter:


———
1 SOURCE: College Insight indicates USC's graduates average $28,474 in debt upon graduation: http://college-insight.org/#spotlight/go&h=0ec593691290fb03da41effda3bf4911
2 SOURCE: Center for American Progress Analysis of U.S. Department of Education Data: https://studentaid.ed.gov/sa/about/data-center/student/title-iv
3 SOURCE: Integrated Postsecondary Education Data System (IPEDS). Title IV participating institutions: Public, 2 year and 4 year and above; Private, not-for-profit, 4 year and above; For-profit, 2 year and 4 year and above. Institution employees (excluding medical school)- all staff with faculty status that are Tenured, On Tenure Track or Not on Tenure Track/No Tenure System, Fall 2013 and Fall 2003. Contingent refers to all employees with faculty status Not on Tenure Track/Tenure System.
https://uscforward.org/wp-content/uploads/2015/09/bts22.jpg
600
600
uscadmin
https://uscforward.org/wp-content/uploads/2021/03/USC_Forward_Rectangle_Logo_Outlined-300x94.png
uscadmin
2015-09-16 13:55:34
2015-09-16 13:55:34
Back to School: The Price We Pay in 4 Graphics