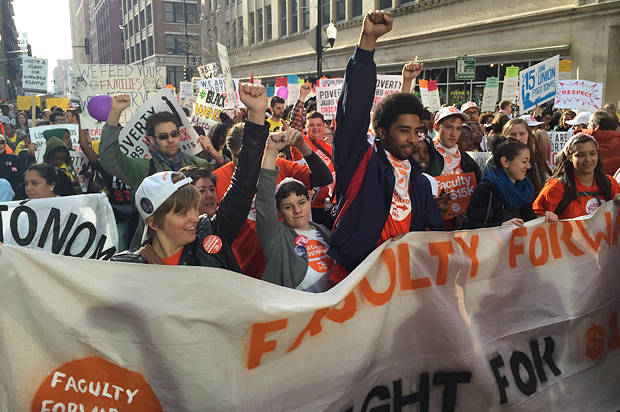 Fed up with a higher education system that prioritizes profits above all else, students and faculty are fighting back against exploitation in universities across the country. From Salon:
"Per-course pay for adjunct faculty averages around $2,800. Three courses is typically considered full-time. Trevithick is teaching six. At the average rate, if he did that in both spring and fall — the equivalent of working 80 hours a week, 10 months of the year — he'd make less than $34,000 pre-tax. And that's at the high end: According to a 2014 congressional report, the median salary for an adjunct was $22,041. 
This exploitation of low-wage faculty is part of what's known as the corporatization of higher education. Increasingly, both public and private colleges are being run on the cost-cutting model of American business. Which presents a burning question: If faculty are being paid less, class sizes are growing and tuition is higher than ever, where is the money going?"
Head over to Salon for the full article.
https://uscforward.org/wp-content/uploads/2015/10/faculty_forward-620x412-1.jpg
412
620
uscadmin
https://uscforward.org/wp-content/uploads/2021/03/USC_Forward_Rectangle_Logo_Outlined-300x94.png
uscadmin
2015-10-14 01:33:33
2015-10-14 01:33:33
The Corporatization of Higher Education: With a System That Caters to the 1 Percent, Students and Faculty Get Screwed